Pet Taxi Service for Pets and their People
833-GO-PETMO

833-467-3866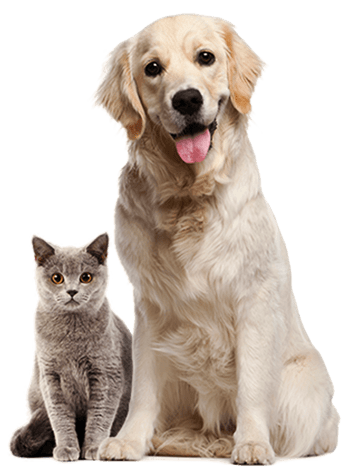 Local and Long Distance Pet Taxi Service
Petmo offers first-class pet taxi service for all breeds, including large dogs, large cats, reptiles and birds. Pets can ride alone or with their people, including pet professionals, senior citizens, and owners of service, emotional support, and therapy animals. We take care of our passengers by providing VIP services that ensure travel is stress-free and accommodate your specific needs as our passenger while you and your pet travel in style.
Other car services often overcharge you by adding pet fees, or decline your pet to ride, Petmo's chauffeurs are dedicated to providing VIP service for you and your pet. From first contact to after you arrive at your destination, meeting your specific pet transport needs is our first priority.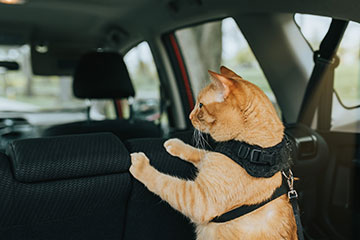 Ride with your pet or they can travel solo to the groomer, veterinarian, pet spa, play date — anywhere! Petmo is proud to offer a safe experience in New York City, including the Bronx, Brooklyn, Queens, Staten Island, Manhattan, and Long Island, New Jersey, Connecticut and Westchester.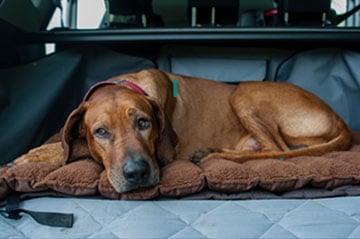 Travel by car service with your animal family member, or your pet can ride by themselves or with their siblings to 48 states and Washington, D.C. (We do not service Hawaii or Alaska.) Petmo provides walks, water, and care to ensure an enjoyable and comfortable experience.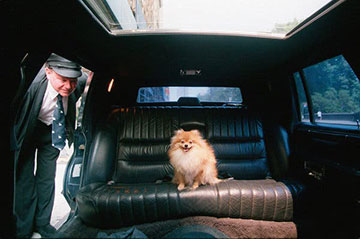 Petmo provides airport transfers to and from all major airports: JFK, LaGuardia, Newark, Teterboro, MacArthur, and Westchester. Petmo is the perfect option for safe and reliable pet transport. From pickup to dropoff, Petmo is your pet transportation solution.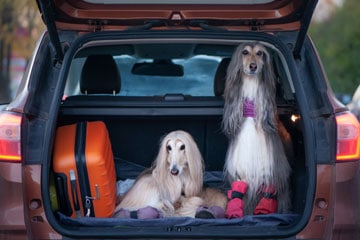 Other car services often decline large breeds or overcharge you by adding additional fees. Petmo provides all breeds service. This includes big dogs, big cats, reptiles and birds. Our service is designed to ensure all large breeds are comfortable and safe.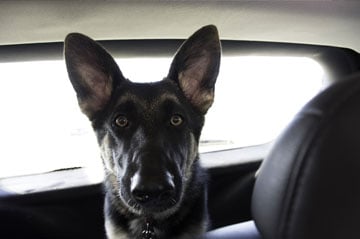 Your pets can ride all by themselves to any location you need to get them to. We also allow for other sibling pets to ride together. Animal family members must get along in close quarters.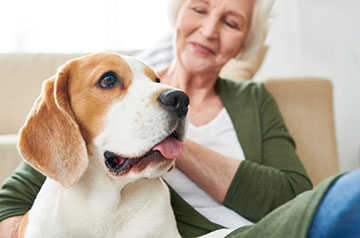 We offer pet-care assistance to all clients including senior citizens who need help getting their pet supplies delivered to their residence, and also assist them with getting their pet into the kennel for transportation or our Petmo vehicle. Petmo is designed to help seniors and pet parents by providing an easy way to get around with their pet and offering assistance where we can.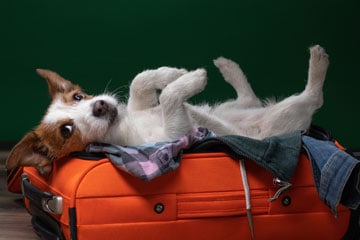 Petmo provides an easy, comfortable and convenient way to transport your pet or you and your pet across the country by car service, helping you move your life to 48 states and Washington, D.C. (We do not service Hawaii or Alaska.) Petmo provides walks, water, and care throughout the duration.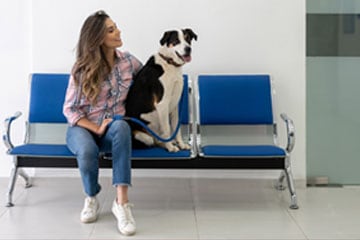 Petmo partners with adoption centers, vets, groomers, animal hospitals, pet daycares, pet spas, boarding facilities, pet hotels and pet events to work as an extension of their team when pet transport is needed.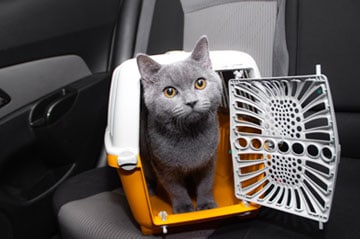 Book an as-directed (hourly trip) and your driver will wait for you to complete your vet appointment, groomer visit, or emergency visit. Run errands with multiple stops and you can order your service by the hour. Longer time frames available. Two hours minimum required.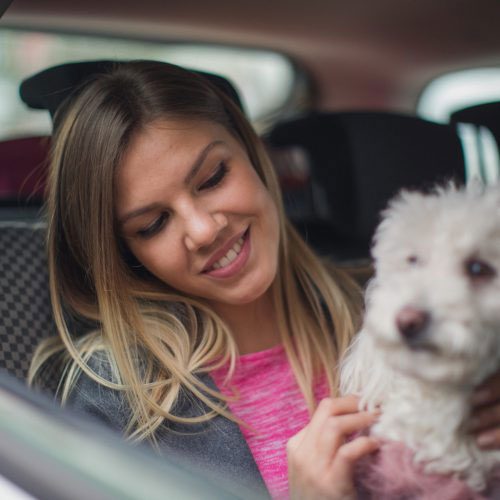 Petmo makes it easy to travel with your pet. We can provide walk-up ramps, crates/kennels, a cat carrier, or a pet harness. Choose your preferred accessory during reservation.
White-glove pet taxi services for dogs, cats, and other animals within New York City, including the Bronx, Brooklyn, Queens, Staten Island, Manhattan, and Long Island, New Jersey, Connecticut and Westchester. Our experienced chauffeurs will open and close doors, assist with luggage or kennel, and provide complimentary water.
Download our new Petmo App or book now.
Pets can ride solo, with other pet siblings, or with people. We welcome parents, pet professionals, senior citizens, and owners of service, emotional support, and therapy animals. We do not discriminate against any breed (although we regret that we cannot accommodate horses, cows, pigs, or llamas ☺ ). 
All passengers 18 years of age and older are welcome. Minors must be accompanied by an adult.
By offering pet accessories for the vehicle, Petmo provides comfortable, pleasant surroundings to keep your pet calm for the duration of the trip. Your pet can stretch out in our climate-controlled economy or luxury vehicles. Petmo provides bottled drinking water. 
If the service extends for more than one hour, we can take your pet for a walk.
We take the safety of our passengers very seriously and pride ourselves on our reputation. We require background checks on each of our chauffeurs/drivers, each driver completes a Petmo safety course, and each client receives their driver's contact information prior to the scheduled pickup time. 
Drivers are pet lovers, with some studying to be in the pet-serving industry — a quality we search for.
We'll Love Your Pet, Just as You Do!
Our drivers are experienced chauffeurs who are also animal lovers. These qualities ensure that all of our passengers are cared for as if they were our family. No matter what you have planned with your pet, let Petmo take you there.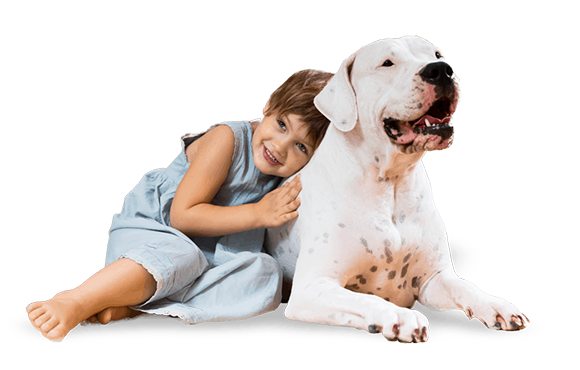 Pet Playdates
Let Petmo take your furry friend or both of you to your playdate. Even if it's a day road trip, just book in advance and Petmo will be your friend for the ride.

Veterinarian Visits​
Have a checkup coming up? Petmo is the perfect way to travel to all health-related appointments on time. Pre-book your pickup and dropoff times.

Pet Daycare
Do you have a consistent morning dropoff or you're leaving for a weekend and have arrangements for your pet? You can rely on Petmo for timely pickups and consistent care.

Groomers
Petmo can pick up and drop off your pet for any appointment you make, without needing you to be there, while you know exactly where your pet is at all times.
Petmo provides fleets of vehicles for travel between hotels and Madison Square Garden/Jacob Javits Center for Westminster Kennel Club, American Kennel Club (AKC Meet the Breeds), World Dog Expo, and Cat Camp NYC.
Step 3:
 Receive a ride confirmation.
Step 4:
Load up in our ride with or without our help.
Step 5:
Track your pet if you're not with them.
Step 6:
Pet arrives safely, and you're notified.
By bringing years of premier chauffeur service experience and knowing the gaping hole in chauffeur services for our furry and feathered friends, Petmo was born.
See what our customers have to say.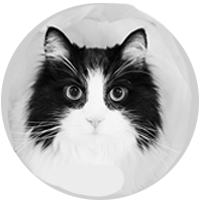 "Our driver was extremely professional, nice and on time, and the dispatcher addressed my questions and concerns in a short time."
— F. Berkowitz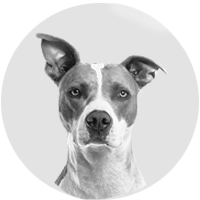 "I was very impressed with the overall experience. From the initial telephone conversation, through the changes and the willingness to be flexible as the situation changed because of weather related issues. My driver was top notched."
— TM Walker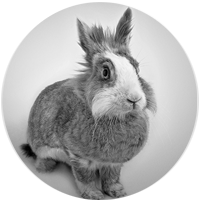 "The driver was amazing and nice! Very communicative. I will definitely be using your service again!"
— T. Dixon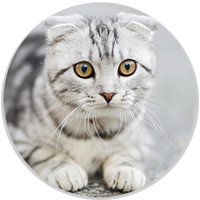 "I couldn't be happier with the transport you provided. It was great and the car was clean and roomy. Thank you for your great service too! I will continue to refer friends and my family to you all."
— B. Finsen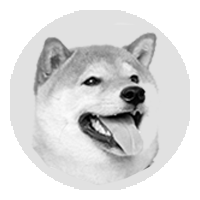 "This was the first time using the service and having been concerned, all was great, arrival, pick up and drop off. Already booked them again."
— G. Beyer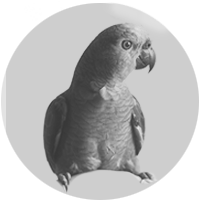 "I hired Petmo to pick me and Lala up at the airport with their sedan. I had just gotten back from a long trip in Germany and was very tired. The driver was on time and extremely courteous and I had no problems at all. Great service!"
— K. Foster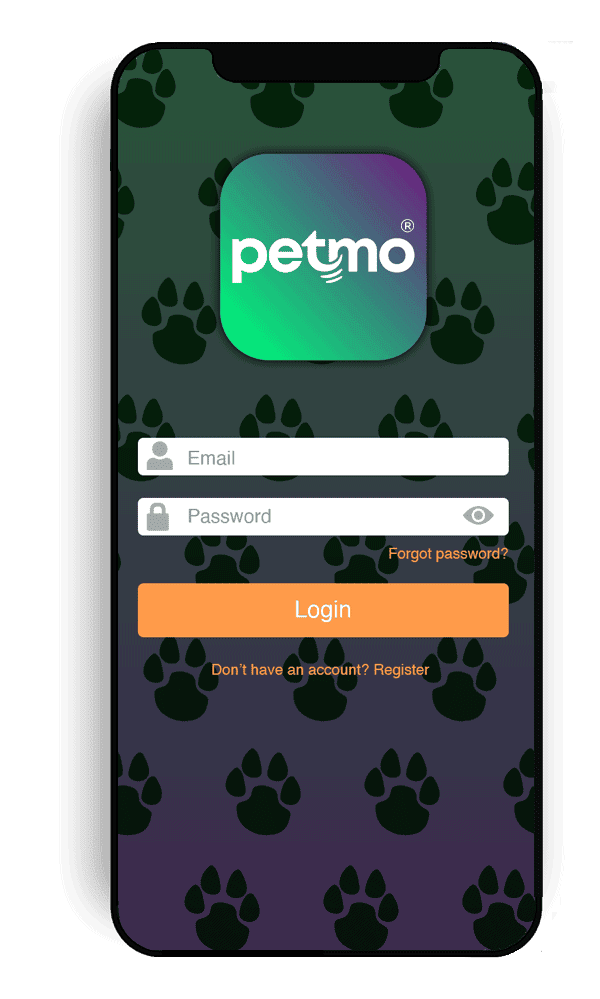 Monday through Sunday 6:00 am to 11:00 pm EST. If you require pet transportation outside of our office hours email Petmo at reservations@gopetmo.com with your travel itinerary.
You can book your ride on the website or download our Petmo App on Google Play or the Apple Store.
As of April 17, 2020, due to the pandemic, New York State requires all TLC drivers and passengers to wear face coverings while riding together. You can use a homemade mask, bandana, or a scarf to cover your mouth and nose. Protect yourself and others.
To modify or cancel a reservation for an upcoming trip, email reservations@gopetmo.com with the booking confirmation number in the subject line and let us know what you need. All cancellations for transfers booked in our vehicles must be received two (2) hours prior to scheduled pickup time or a cancellation fee will be charged.
Sorry. No refunds for any services rendered. If you have a concern about your Petmo ride, we will be happy to resolve it, and offer a credit for a future ride. Email us at reservations@gopetmo.com with your booking confirmation number in the subject line.
Yes! You can ride with your pet or we can transport your pet by itself. One of the main benefits of Petmo is that you can arrange a ride for your pet with or without you.
If your pet is a dog, then no. Most pet parents/caretakers choose to have their dogs lie on the back seat or floor of our vehicles. If your pet is a cat, then yes — Petmo requires cats to be transported in a kennel or crate. Pet seat-belt harnesses are available to ensure the safety of your pets. Include harness during checkout in the Accessories section.
We assist all clients who need help coaxing their pet into its kennel. If you need assistance, when booking please add a 15-minute block for loading.
No. When you book with Petmo, your pet has their own private transport. If your pet has a sibling,  we welcome your pets to ride together in the same vehicle (if they get along). Have more than one pet riding with us? Notify us in the notes section during the end of your booking process or email us at reservations@gopetmo.com with your booking confirmation number in the subject line.